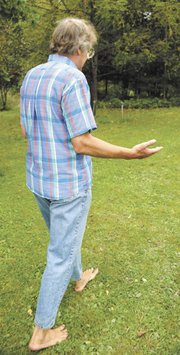 Marcellus — On Saturday, Sept. 24, Bob "Barefoot Bob" Piekiel hosted the third annual Barefoot Hike at Baltimore Woods Nature Center in Marcellus.
The program was a way for Piekiel to share his views on barefoot living with the Marcellus and surrounding communities.
"I haven't worn shoes for thirty years," Piekiel began. When he was in his early twenties he had problems with his legs and skeleton system, and he found that when he walked around without shoes the pain would subside, he said. In the winter, of course, he has to wear shoes, but ever since he found the soothing side effects of the Earth on the soles of his feet he decided to ditch his shoes and walk barefoot as often as he can.
Last year about 30 community members showed up at Baltimore Woods for the Barefoot Hike, but this year only four people were present. The overcast day may have deterred many from coming out, Piekiel said.
Before the hike commenced, Piekiel shared some personal experiences and general knowledge with the crowd.
"It takes about two weeks to naturally condition your feet, after that, concrete won't even hurt," Piekel said. "Going barefoot feels better and completely eliminates my problems with my legs, knees and so on, from April through October, I wear no shoes."
Piekiel took his followers on the new Valley Trail, and was excited because it had just rained and the ground was moist to walk on. He warned against the slippery terrain and suggested stepping down with the ball of your foot, instead of a heel strike that many people grow accustom to doing with shoes. By stepping with the ball of your foot, your body can naturally protect itself from sharp objects, he advised.
Piekiel led the group up and down fairly steep hills, and even into a stream. He was confident that his body would not betray him, and gave everybody present the same confidence.
(Continued on Next Page)
Prev Next
Vote on this Story by clicking on the Icon