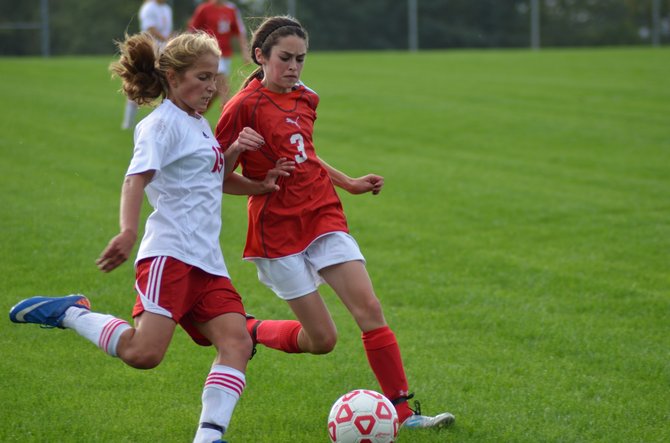 Here, the Rams would beat the Tigers 7-0, led by senior Tom Lukow's pair of goals. Lukow, a varsity player since his freshman year, missed the 2010 season due to a knee injury, but has returned to full strength and has contributed both as an offensive leader and by playing in goal.
Fazio had a pair of assists as Pat Maroney and Mike Mulvihill both had one goal and one assist. Andrew Lee, Luca Pelligra and John Mahoney also scored, with Josh Kiesa, Lucas Johnson and Peter Silsz earning assists.
In non-league play, ESM's boys team would return to the win column last Monday night at Spartan Stadium, knocking off Tully 3-1.
The Black Knights had a 6-1 record and led the OHSL Patriot division, but the Spartans jumped all over them, seizing a 3-0 lead by halftime. Esad Tihic, Jarrett Temple and Connor McEachron scored, with Sam Baadani picking up a pair of assists. Eries Hujdur also had an assist.
Just 24 hours later, the Spartans won again, 3-0, over Cortland. Following a 0-0 first half, ESM took charge in the late going as Jeremy Barbuto found the net twice, while Jeff Smith earned the other goals, plus an assist. Casey Sullivan stopped all four shots he faced.
ESM's girls team returned to the field Thursday, beating Mexico 3-1. Amanda Wall carried the Spartans along, scoring once in the first half and twice more in the second half to earn a hat trick. Kaitlyn Shaughnessy, Heather Hiltbrand and Alex McEachron each had one assist.
Vote on this Story by clicking on the Icon