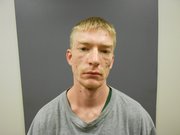 DeWitt — DeWitt Police have charged a 30-year-old man in an accused scheme to defraud.
Police say Vincent Brush, of Gregory Parkway, DeWitt, went door-to-door soliciting seniors to hire him for yard and house work. He's accused of not completing that work, though many homeowners paid cash for the work. On one occasion, police say Brush collected a credit card and PIN.
Brush was charged with second-degree forgery, first-degree scheme to defraud and seven counts of petit larceny. He was arraigned in DeWitt town court before Judge David Gideon and remanded to the Onondaga County Justice Center in lieu of $10,000 cash or bond.
Any residents with similar complaints are asked to call the department at 425-2333 or tips@townofdewitt.com.
Contractors and door-to-door sales representatives are required to have a permit from the town.
Vote on this Story by clicking on the Icon