Scarr wore a light blue sweater, and her partner, Andrew Martin, wore a dark blue sweater. They started the dance on the left side of the area, crossed to right side then came out in front off-camera. They ended in the back left corner.
In preparation for the parade, the dancers rehearsed every night for three hours the entire week before the performance. Rehearsal was the Monday before Thanksgiving, during which they had five minutes to practice in the street, get used to the dance space they were to perform in and also see all cameras set up that would be filming.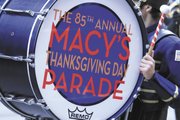 The performance lasted for 90 seconds.
"It went very well. It was a whirlwind," Scarr said. "I am really glad we did so much rehearsing."
But while dancing live on television was exciting, the "really cool part" was walking in the parade, Scarr said.
She arrived at Central Park West at 7:30 a.m. to line up, and started walking with her fellow CAP 21 dancers at 9:30 a.m., right behind the Heritage Float, which had famous cartoon characters of the past like Barney, the Pink Panther and Arthur.
They walked from 81st Street to 34th Street — for nearly two hours before their performance, which occurred at 11:10 a.m.
"My favorite was the balconies filled with people," Scarr said. "There were people in their apartments, looking out windows and waving; the streets were lined with people; you're waving at them, saying 'Happy Thanksgiving!' It was a really cool tradition to be a part of. The energy was really high."
New York City officials estimated about 3.6 million people in the streets that day.
"It was definitely a dream come true to walk in the parade," Scarr said.
Scarr's performance with Cap 21 in the Macy's Thanksgiving Day Parade can be watched on YouTube by searching for "CAP 21 dance in thanksgiving day parade."
Jason Emerson is editor of the Skaneateles Press. He can be reached at editor@skaneatelespress.com.
Vote on this Story by clicking on the Icon