If you watched the annual Macy's Thanksgiving Day parade last Thursday on television, you probably saw Skaneateles native Rachael Scarr dancing live in front of the Macy's storefront on 34th Street as she performed in one of the most famous parades in the world.
Scarr, a 2009 graduate of Skaneateles High School, danced with a group of Collaborative Arts Project 21 (CAP 21) students to the song "Boogie Woogie Bugle Boy," as performed by the "United We Sing" group.
"It was wonderful. It was a very quick experience," Scarr said. "They rushed us on, turned on music then rushed us off because of the people behind us."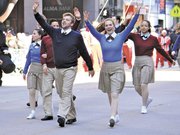 Scarr, a Skaneateles native, has done numerous high school and local theater productions in the Skaneateles area.
"This is definitely where I found my love of theater. If I hadn't gone to Skaneateles High School and gone through the drama program with the dedicated faculty I wouldn't be here at NYU in the city doing what I love. They really cultivated our passion, they knew how to push us, build us up and make us feel confident in our love for theater," Scarr said.
She also worked at Merry-Go-Round Playhouse in Auburn the first summer after her freshman college year at NYU in 2010, and performed in three Summerstock shows: "Promises, Promises," "Meet Me in St. Louis" and "The Drowsy Chaperone."
Scarr is now a junior in the CAP 21 musical theatre program in New York City, working towards her musical theater Bachelor of Fine Arts degree in drama.
"Theater is my passion," Scarr said. "My goal is just to be an actress for a living, to make a living doing what I love. The dream is Broadway, but I know that won't happen right away."
Scarr and the other 23 CAP 21 dancers performed a partner swing dance in front of Macy's on Thanksgiving, doing swings, lifts, splits, cartwheels onto their partners' laps, and dancing around a float in shape of a drum. They all wore khakis and sweaters in a 1940s-era college look.
(Continued on Next Page)
Prev Next
Vote on this Story by clicking on the Icon