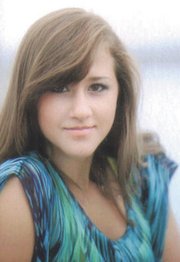 Skaneateles — In 2006, Kaela Fiutak was an aspiring gymnast with no interest in joining the Skaneateles swim and dive team. Now, five years later, Fiutak, a senior at Skaneateles High School, is one of the top 25 divers in New York state, has won numerous awards and recently became the first athlete to ever earn the chance to compete at states for the Skaneateles High School Swimming and Diving team.
"I never really thought I would want to dive, but my gym teacher, Jill King, was the swim coach and she knew I did gymnastics. In sixth grade she asked if I wanted to start diving. I said no," Fiutak remembered. But the next year she changed her mind and decided to give diving a try. "It was just different enough from gymnastics that it gave me a break," Fiutak said. "I probably wouldn't have tried it if it wasn't for Coach King."
King, recently named coach of the year for class C in section III, remembers Fiutak's first years as well.
"Kaela was strictly a gymnast. I saw her flipping around in gym class one day and knew she wasn't doing any school sports," King said. She convinced Fiutak to try diving, and after that first dive, "I knew a diver was born at that moment."
Fiutak had been doing gymnastics since about age 6, and started diving on the school team in eighth grade, working with diving coach Kathryn Rozak. After three years on the team she took her junior year off from diving in order to concentrate more on gymnastics. For her senior year she decided to return to the pool — and what a year it has been.
She was awarded MVP at the Skaneateles vs. Mexico meet earlier in the season. She won Class C sectional, placing fourth overall after the first day, Friday, Nov. 4. She won the state qualifying meet the next day, which earned her a spot in the state tournament. She was also awarded the Outstanding Diver Award at the meet.
(Continued on Next Page)
Prev Next
Vote on this Story by clicking on the Icon