DeWitt — Unfortunate budget shortfalls in the spring meant that some modified, junior varsity and varsity coaches in the Jamesville-DeWitt school district didn't make the cut.
By the Numbers
Must raise:
$48,000 … by Dec. 31
Will save 5 coaches and teams at modified, 3 at JV/Varsity
$21,000 … by May 21, 2012
(For fall 2012)
$48,500 … by Dec. 31, 2012
(For spring 2013)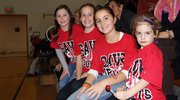 Midnight Madness for Save JD Sports
WHEN: 6 p.m., Dec. 17
WHERE: JD High School gymnasium, address
COST: $1 for students and seniors, $2 for adults. Family cost, $5
WHAT: The pep rally event includes all Red Rams winter sports teams from modified to varsity. The event will include costs and the introduction of all coaches and teams. Raffles, a faculty basketball team and other events will wrap up the evening.
The positions were eliminated, along with the additional roster space those coaches would allow for the teams at the three sports levels. Now, parents and volunteers are working to save the teams, the coaches and the opportunities for the students in seventh grade and higher.
"This fall, enough kids were cut from the team, that they could have created a second team," parent Joy Binder said. "That's what instigated this whole uprising."
The uprising is a grassroots effort to raise more than $118,000 in the next 18 months to reinstate modified teams and coaches at the modified, junior varsity and varsity levels.
For spring sports, $48,000 needs to be raised in order to reinstate five modified coaches and three JV or varsity coaches. Having the additional coaching personnel would help bring on second teams at the modified level, allowing all students to play.
"We don't want students to stop playing sports at grade six because there's not an opportunity at the modified level," Binder said.
Binder and other parents in the Jamesville-DeWitt Youth Athletic Association (JDYAA) teamed up to begin "Save JD Sports," a push to raise the funds to reinstate the coaches, and pay for travel and accomodations while on the road. With less than a month of fundraising down, and less than a month to go, the group has placed yard signs, made t-shirts and raised $13,000, including a $10,000 donation from JDYAA members, themselves. Email blasts, a website, Facebook pages and Twitter accounts have also been made to help spread the word to save the sports teams.
(Continued on Next Page)
Prev Next
Vote on this Story by clicking on the Icon