Cazenovia — Cazenovia Artisans is beginning their 10th holiday season by welcoming two exciting new artists.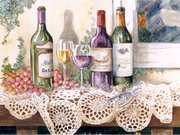 Ceil Pigula has brought her vibrant watercolor still-lifes and landscapes to the gallery; Wendy Edwards' polar fleece hats and scarves are flying off the shelves while her fabric purses and carpet bags are a distinctive addition to the shop's offerings.
As the artisans begin their annual "Artistrees" holiday exhibit, they invite you to stop in to see these new artisans' work as well as the ornaments and other holiday items created by long time members.
After experimenting with oils, acrylics and pastels, Ceil Pigula, of Camillus, has been painting in watercolor for more than 25 years. The versatility of her subject matter (a hay mow, a lace tablecloth, a pastoral country scene) is a noteworthy aspect of her work. Detail and bold color are signature traits, as are the dynamics of light and shading.
Each painting represents a learning experience to Pigula. "I try to leave my comfort zone through variations of subject, technique and materials," she said.
Pigula's pictures, prints and cards have received numerous awards. She has had her work displayed in national shows such as the Adirondack National Exhibit of American Watercolors and the Cooperstown Art Association National Exhibit. She has been a Signature Member of the CNY Watercolor Society since 1998, and currently serves on its board of directors.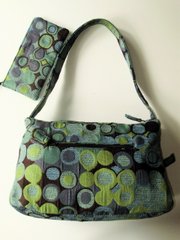 Wendy Edwards, of Fayetteville, has been sewing and designing since she was seven-years-old, and remains fascinated with design concepts, fabric selection, pattern making and construction. Her design aesthetic is heavily influenced by years of living in New York City, and she continues to rely on her familiarity with the garment district to purchase beautiful, unusual and high quality designer fabrics.
Her handbags are cut by hand and produced one at a time. She pays careful attention to the appointed details of each bag from linings to pockets and closures, offering durable and striking purses that are works of art as well as functional. Wendy also creates a steady supply of fun and colorful polar fleece hats and scarves for adults and children that are lightweight and wash well yet are incredibly warm.
Many polar fleece fabrics are recycled from soda bottles, making a purchase also a reuse of resources. Wendy creates stretch velvet head bands and silk and lavender sachets as well.
Visit Cazenovia Artisans' gallery at 39 Albany St., Cazenovia to welcome these new artists and see their work.
The gallery is open seven days a week.
Vote on this Story by clicking on the Icon