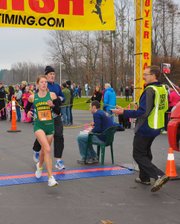 Baldwinsville — Thanksgiving Day's warm weather helped to break last year's record for the Baldwinsville Kiwanis Turkey Trot.
"Running has become more popular in general," said Baldwinsville Kiwanis Mike Samoraj about the increase in participation. "The Baldwinsville Kiwanis Turkey Day race has been around a long time and has become a tradition for many CNY families to start their Thanksgiving morning. I think the good weather helped race day sign ups as well."
A total of 2,467 runners participated in the 43rd annual event, which drew 600 more people than participated in last year's event. Overall, 1,798 participants ran in the 5K. In fact, due to the high volume of 5K runners, organizers plan to change to a continuous loop for next year's race.
"[There were] too many runners for the turnaround on Sixty Road," Samoraj said, adding that the new route would be certified, of course.
On race day, 5K runners warmed up for the 9:15 a.m. race by running up and down the streets near the Baldwinsville Central School District campus. Just before the race started, the runners filled East Oneida Street between Mechanic and Virginia streets leaving standing room only. When the race started, the impressive group stretched from just east of Virginia to Sixty Road. Meanwhile, the 669 participants in the 10K warmed up for their 10 a.m. start. The event also included an 8:30 a.m. Kids Run at Baker High School.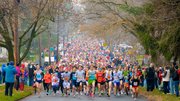 Winners of the 5K were Chris Stogsdill (first), Tom Hopkins (second) and Nathan McCabe (third) in the men's category and Lisa Holt (first), Carissa Swilley (second) and Chelsea Cooper (third) in the women's category. Winners of the 10K were Brian Lang (first), Chip O'Hara (second) and Jack Knych (third) in the men's category and Danae Polsin (first), Megan O'Connor (second) and Colleen Shores (third) in the women's category.
(Continued on Next Page)
Prev Next
Vote on this Story by clicking on the Icon