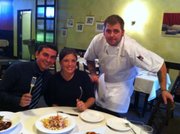 2/3 cup butter, softened

1/2 cup sugar

1/2 cup honey

3 eggs

1 2/3 cups milk

2 1/3 cups all-purpose flour

1 cup cornmeal

4 1/2 teaspoons baking powder

1 teaspoon salt
In a mixing bowl, cream butter and sugar. Combine the eggs, honey and milk. Combine flour, cornmeal, baking powder and salt; add to creamed mixture alternately with egg mixture.
Pour into a greased 13-in. x 9-in. x 2-in. baking pan. Bake at 375 degrees for about 22-27 minutes or until a toothpick inserted near the center comes out clean. Let cool on the side.
For the wet ingredients:
You will need chicken stock. Nothing beats a great homemade chicken stock, but if you don't have the means to take on the task or just don't have the time. I recommend using Swanson brand chicken stock.
You will also need to find a good sausage, This recipe works well with any sausage really. Here at BC restaurant we use a great Duck and Foie Gras Sausage. If you want you may substitute a good Andouille or Chorizo, a good sweet italian sausage would work as well. Since we're
in the winter/holiday season, I chose to use a duck and foie gras sausage.
4oz canola oil

1 Quart Chicken Stock

6 Sausage links (decased, squeeze the filling out, discard the casings)

1 bunch of Celery (fine diced)

1 Spanish onion (fine diced)

6 sprigs of thyme (picked)

1 cup of Dried Cranberries (chopped)

*if you have good knife skills, you may take on the task of dicing or if you want a quicker way, you may pulse the onion, celery and thyme together in a food processor (I won't tell!)

Salt and Pepper (to taste)
In a small sauce pot warm up the quart of chicken stock. In a large sauté pan over medium high heat start to brown the sausage. Once the sausage starts to brown, add the diced onion, celery and
Vote on this Story by clicking on the Icon