Jordan — Purple sheets were folded and dropped into a basket as residents filed into the Jordan-Elbridge Community Center in Jordan to hear Congresswoman Ann Marie Buerkle speak. Each sheet held a question for the congresswoman. At 6:15 p.m., Onondaga County Comptroller Robert Antonacci brought the basket to the front of the room, and explained that questions would be drawn at random from the basket for Buerkle to address.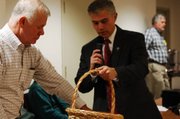 Over the course of the evening, the basket revealed twelve questions that ranged from Pell funding to pizza.
Pat Cooper wondered why the Congresswoman would rather eliminate Pell grant loans to college and grad students than raise taxes slightly on the wealthiest millionaires in the United States.
"How much money have we put into the system of public education?" asked Buerkle. "Do we have a system that's working? The United States should be producing the most well educated kids that can compete in the global market. Something is wrong. It isn't that we're opposed to public education, but let's do something that works. Let's try something different."
A Syracuse resident, who identified himself only by first name, Richard, asked the congresswoman about healthy lunch diets, bringing up the recent National School Lunch program proposal from the Department of Agriculture.
"I want to know what your position is on that program they proposed," he said.
"That was where pizza was going to be a vegetable," Buerkle explained with a smile. She continued by raising the question of where decisions that affect education should originate from. "I think education should be a state and local issue," she said, raising her voice over applause.
"But aren't you in favor of improving the nutrition of school lunches?" Richard pressed.
"I think the Jordan-Elbridge school district should be planning the menus," Buerkle said. "Why are we mandating what Jordan-Elbridge needs down in Washington?"
(Continued on Next Page)
Prev Next
Vote on this Story by clicking on the Icon