Another year, another state Class C championship game for the Cazenovia field hockey team that went to overtime - and another title earned.
Emmajean Speer's goal 3:10 into the extra period gave Lakers a 3-2 victory over Section II champion Greenwich in Sunday's championship game at Cicero-North Syracuse's Bragman Stadium.
"I can't believe it, it's so unreal," said Speer. "It came down to who wanted it more, and we did."
"I'm so happy for the girls," said head coach Lorraine Scheftic. "Just to have one state title is great, but just to get a shot at two, much less win again, is amazing."
Speer's decisive shot came on the Lakers' third penalty corner of the seven-on-seven OT session. The first two had not even produced one shot, but here Speer worked her way near the net and, she said, "I just pushed it in" past Greenwich goalie Samantha Whitehouse.
Cazenovia and Greenwich were familiar with each other. They had met in the 2010 state quarterfinals, the Lakers prevailing 2-1 on its way to that first state title.
Now the stakes were a lot higher, but the Lakers were ready. Scheftic said that, while scouting the Witches' 4-1 state semifinal win over Friends Academy, she noticed that, as a whole, Greenwich was slower than Bronxville, the team Cazenovia had fought past 1-0 in its semifinal.
To that end, the plan was to attack hard, right from the start - and it worked.
In fact, it took just 1:39 for the Lakers to seize a 1-0 lead. On the game's first penalty corner, a scramble ensued in front of the net, and Emily Willard, off a feed from Jillian Vogl, poked it into the box.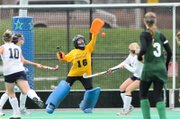 The Lakers' attacks continued, with all sorts of near-misses, until the 11:04 mark, when Vogl pounced upon the rebound of Chirarello's original shot and fired home the goal that did double the margin.
(Continued on Next Page)
Prev Next
Vote on this Story by clicking on the Icon