SYRACUSE — As he introduced fellow Syracuse Area Music Awards Hall of Fame inductee Dave "Rock" Feinstein at the awards show Friday night, 805 frontman Dave Porter reminisced about long-ago Monday-night poker sessions with Feinstein and his cousin, the late Ronnie James Dio.
"I remember I won $30 once," Porter mused, "but every other time Dio cleaned my clock."
Such recollections spiked the 2011 Sammy Awards with a warm shot of nostalgia.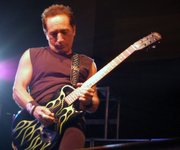 Before Feinstein launched into a high-volume set with his band, The Rods, he recalled fresh-water fishing outings with Porter where he fared far better than at the poker table.
While Porter and Feinstein, who each delivered explosive and entertaining sets to punctuate Friday's awards show, have passed age 60, even 20-something jazz guitarist Tom Bronzetti also waxed nostalgically as he picked up his first Sammy for his band's new disc, "Make Someone Happy." The first person Bronzetti thanked was his Liverpool High School jazz band director Jim Spadafore, Bronzetti pointed out that Spadafore had once been a student of Joe Riposo, another new Sammys Hall of Famer who handed Tom his trophy.
Ah, the Great Mandala of Music!
While 805 went over the top with "I Am the Walrus" before The Rods over-heated their Marshall amps, Syracuse soul man Isreal Hagan got the ball rolling with a solo set showcasing confident covers of Bob Dylan's "Like a Rolling Stone" and Jimi Hendrix's "Foxy Lady."
The Sammys audience of some 1,000 at the Pirro Oncenter Grand Ballroom enthusiastically applauded Hagan and 805 before dwindling down to a few hundred prior to The Rods' hard-rocking set which closed the show.
For the second year in a row, the Sammys were staged as part of a two-day Music Industry Conference; micnys.com. For Sammys info, visit SyracuseAreaMusic.com.
Vote on this Story by clicking on the Icon