SYRACUSE — By Thursday morning, more than 450 pounds of turkey will have been baked in the Rescue Mission ovens, preparing to serve hundreds of Syracuse residents for a traditional Thanksgiving dinner.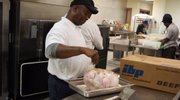 "Holidays can be a fun and happy time, but for a lot of people, the Rescue Mission is their family," said Corey Kociela, director of programs. "We love them, appreciate them and we are their family during most of the festive times."
Serving meals on holidays is nothing new to the Rescue Mission, one of the longest established charities for poor and in-need individuals of central New York.
The organization expects to serve and deliver as many as 1,500 meals to individuals and families, be it through the meal options at the Food Service Center on Gifford Street, or through home deliveries for the home-bound and elderly.
Thanksgiving dinner at the Rescue Mission is open to anyone in need. Dinner is served to the individuals at the tables, akin to a restaurant setting. Cooking the dinner takes months of preparation — cooking 450 turkeys is no easy feat.
"We're gearing up, even in the summertime," Kociela said.
The staff begins cooking Turkeys one-by-one in October, cooling them and taking the meat off the bones to freeze until Thanksgiving.
"It tastes like it just came off the bone," Kociela said. "We have to do that because of the amount of meals."
By the Numbers
· 450 lbs. of cooked turkey
· 80 gallons of stuffing
· 80 gallons of mashed potatoes
· 45 gallons of corn
· 30 gallons of gravy
· 125 lbs. of cranberry sauce
· 1,500 rolls
· 200 fruit or pumpkins pies
· 15 gallons of coffee, tea or lemonade
Volunteers will come in at 8:30 a.m. Thanksgiving morning to begin packing, preparing and decorating the hall for the festive feast. More than 200 locals have devoted their time to the Rescue Mission for Thanksgiving day — and have been planning for months. On Oct. 10, phone lines opened for volunteers to call in and sign up for holiday shifts. By day's end, the 200 slots had been filled. More than half of those who come in on Thanksgiving are returning volunteers, too.
(Continued on Next Page)
Prev Next
Vote on this Story by clicking on the Icon