Cazenovia — On Tuesday, Nov. 8, the Cazenovia Forum hosted Eric Kingson, Ph.D., to discuss the "Politics, Economics and Ethics of Social Security Reform." The event was held in the McDonald Lecture Hall on Cazenovia College's campus.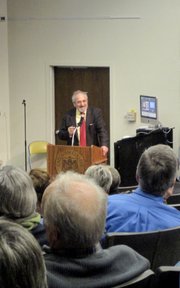 An expert on Social Security who has advised several presidential commissions on the issue, when Kingson hears people talking about "fixing social security," it reminds him of when he and his wife "fixed" their dog, Casey. A passionate speaker, and supporter of the social security program, Kingson sought to assuage fears that Social Security is a drain on our economy, or that it will not be able to support the retirement of the baby boomer generation.
"We built up this trust fund," he said, "anticipating retirement of baby boomers."
Kingson has worked as the policy advisor for two presidential commissions involving the 1982-83 National Commission on Social Security Reform and the 1994 Bipartisan Commission on Entitlement and Tax Reform. He is currently a professor of Social Work at Syracuse University.
Though Kingson acknowledges that Social Security will need to be addressed within the near future, he argues that it does not present "an insurmountable problem."
During the discussion, Kingson stressed that Social Security is not broken beyond repair.
The current system will be completely effective until 2035, and then it will be 23 cents short for every dollar.
This is a problem, Kingson told the audience, but not one that we cannot solve; "the system is not belly up."
Increasingly, framing of social security in the media is as a problem to be solved. Many conservative politicians are determined to privatize social security due to their belief that it is contributing to the national debt.
"None of [the republican candidates] have anything good to say about Social Security," Kingson said, noting for example Governor Rick Perry's remark that the program is a "Ponzi scheme."
(Continued on Next Page)
Prev Next
Vote on this Story by clicking on the Icon