It was a do-or-die pressure situation for Cazenovia resident and equestrian competitor Beezie Madden and her teammates at the 2011 Pan American Games, with Team USA's bid to the 2012 Olympic Games at stake. Competition started on Thursday, Oct. 27, and continued through Saturday, Oct. 29, in Guadalajara, Mexico.
The U.S. Team had to place in the top three of unqualified teams to make it to London. If their performance under pressure is any indication of future success, the 2012 Olympics should prove to be very exciting for Team USA.
They delivered a perfect score with eight clear rounds in the Nation's Cup to capture the Gold Medal.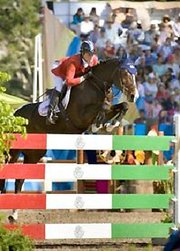 "This was a fantastic week for the US Equestrian Team and I was thrilled with Via" said Madden. "We had a job to do to get to the 2012 Olympics and we succeeded. I could not ask for a better result. The event was fantastic and we are looking forward to London."
Their score of 2.90 from the first class on Wednesday didn't change on Thursday and the team led Brazil (11.58) and Mexico (13.24) in the medal ceremony. Joining Beezie and her horse Coral Reef Via Volo, a 13-year-old Belgian Warmblood mare, on the team were Kent Farrington, of Chicago, Ill., on Uceko, Christine McCrea, of East Windsor, Conn., on Romantovich Take One, and McLain Ward, of Brewster, N.Y., on Antares, F.
After the team competition, Beezie and Via Volo were sitting atop the leader board for the entire individual competition, until her teammate Christine McCrea bumped her to the Silver Medal podium by besting her time by 7/10 of a second.
Following five perfect rounds, Beezie and Via Volo landed and crossed the finish line with a clear jump off and a time of 66.07 seconds, just over the time allowed of 66 seconds thus incurring a time fault dropping them to second place.
Coach for the US Show Jumping Team, George H. Morris said "This is an A-plus. The courses were fantastic, the technical coordination was fantastic, the footing was very good, the horses jumped great, it's a beautiful club — A-plus across the board."
John and Beezie Madden own and operate John Madden Sales, Inc. in Cazenovia.
The Maddens train, sell and compete some of the world's best equestrian athletes in the sport of Show Jumping.
Connie Sawyer is president and owner of Connie Sawyer, LLC, an Equestrian Event Planning company. She can be reached at sawyer.equestrianevents@gmail.com
Vote on this Story by clicking on the Icon