Skaneateles — By lunchtime Tuesday, Nov. 8, voter turnout for the town elections in Skaneateles and Spafford had been steady and, in some cases, better than expected.
At the Skaneateles fire station and YMCA polling places, more than 200 voters have showed up at each as of 1 p.m. "We're very happy with our turnout so far," said volunteer Marian Marchand at the Skaneateles Fire Station.
In Skaneateles, the only contested race is for town justice, where incumbent Kathy Dell (Rep.) is facing off against former village trustee Tim Lynn (Dem.).
In the other three races, town supervisor Terri Roney (Rep.) and town board members Nancy Murray (Dem.) and Jim Greenfield (Rep.) are running unopposed for reelection.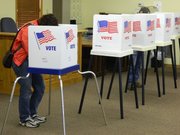 In Spafford, more than 200 voters had voted as of 12:30 p.m. at the Spafford Town Hall, the polling place for both town election districts. "It's been steady, and so far a very good turnout," said volunteer Pat Strodel.
In Spafford, six candidates are vying for three town board seats — Republicans Joyce Larrison, Frederic "Tom" Abbott and Jeff Ireland; and Democrats Chris Fesko, Louis Hanlon and Bragg-Adams.

Larrison and Fesko are opponents in a special election to fill the spot formerly held by Fesko's late husband Rick, who unexpectedly died this past May. The winner of that race will serve a two-year term. The other board candidates are vying for full four-year terms.
Town supervisor Webb Stevens, highway superintendent Carl Wiers and tax collector Heidi Adams all are running unopposed.
The polls in both Skaneateles and Spafford close at 9 p.m., and because of the computerized voting machines, the preliminary results — not including absentee ballots — should be available shortly thereafter.
In Skaneateles, Democrats will be gathering at Johnny Angel's restaurant to await results and Republicans will gather at the Sherwood Inn. Both town justice candidates Lynn and Dell have confirmed they will be at their parties' respective locations to hear the election results.
In Spafford, neither political party has plans to gather its candidates in any specific location to await results.
The Skaneateles Press will post the latest vote numbers as soon as they are released.
Jason Emerson is editor of the Skaneateles Press. He can be reached at editor@skaneatelespress.com
Vote on this Story by clicking on the Icon