East Syracuse — The vote is still out on the County Legislature seat, as the race between East Syracuse mayor Danny Liedka and former East Syracuse mayor Lorene Dadey comes down to absentee ballots.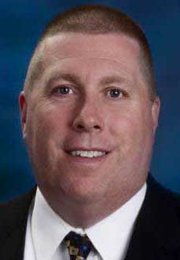 Liedka, the Republican candidate, netted 2,381 votes over Dadey, a Democrat, with 2,248 votes: a margin of just 133. There are more than 200 absentee ballots which will be unsealed on Thursday. The results of that count will be posted at eaglebulletin.com as they become available.
"The math is on my side, but my opponent hasn't conceded," Liedka said. "It's not far off, I certainly don't want to jinx myself. I really need to wait until it's certified."
Liedka is in his second term as East Syracuse village mayor. Previously, he was the village deputy mayor and spent one term as a village trustee. He is an on air sports broadcaster for Time Warner Cable Sports and a Business Development Manger at Marriott International.
Vote on this Story by clicking on the Icon