Cazenovia — On Tuesday, Nov. 2, New York State Assemblyman Bill Magee informed the citizens of Cazenovia that he successfully secured $150,000 in capital funding, to put toward the replacement of the Clark Street bridge. Magee was awarded the funds after putting in a request to the speaker of the assembly, informing them of the growing concern over the closed bridge.
"Businesses in our area rely on the Clark Street bridge in order to deliver timely service. In this economy, local businesses cannot afford to lose customers. Lost customers result in lost revenue, which can mean layoffs for local workers, the last thing our community needs," Magee said. "Public safety and sound infrastructure remain a top priority of mine, particularly when it has such a broad impact on our community. Replacing the Clark Street bridge is a win-win for everybody."
While he said the request has yet to be finalized, Magee also said he has no reason to believe the money won't be approved toward the cause. The $150,000 will be granted from the New York State Department of Transportation as Multi Mobile Money, a fund created to help local governments with their highway needs.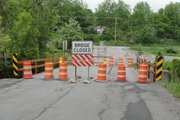 The Clark Street bridge was closed in May, after having slowly fallen into disrepair in past years. The overpass is a Madison County-owned bridge, but as the funding once allocated for repairs began to fade, so did the county's efforts to maintain the structural integrity.
After being yellow-flagged in 2009, then red-flagged and moved to a single-lane the following year, the NYSDOT red-flagged and closed the bridge indefinitely after their most recent inspection in May.
Officials from the Madison County Highway Department estimated the bridge would remain closed for anywhere from five to ten years until the funding was available for repair.
Numerous residents, businesses and students have been affected in the wake of the closure, having to permanently alter their routine routes. Recently, Cazenovia Village Mayor Kurt Wheeler and the village board of trustees have begun to take steps toward re-assuming ownership of the bridge, hoping to procure the funding needed for a timely repair. The senior class at Cazenovia High School recently began fundraising efforts, netting $100 at their first event.
(Continued on Next Page)
Prev Next
Vote on this Story by clicking on the Icon