East Syracuse — The fate of the East Syracuse Police Department could be in the residents' hands come spring.
The police contract is set to expire at the end of May and in order for the village to hold the line on taxes, a dissolution of the police department could be necessary to control costs.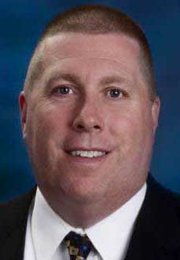 "We're kind of at a crossroads," said Danny Liedka, mayor of East Syracuse. "Before I would consider entering into another contract, we have to weigh the options."
The village, which holds the highest tax rate in Onondaga County, faces three options, Liedka said.
The public can vote to abolish the department, keep the police force or the 'wild card,' which is to enter a shared-services agreement with the town of DeWitt.
Should the village trustees vote to abolish the department, a village-wide referendum would be held to keep or do away with the police department.
"We've got a first-class department, we have great officers," Liedka said.
A referendum would be held, preferably, by March to decide the fate of the police department, the mayor said. The village trustees would have to vote to abolish the department. If the referendum is held in the spring, the village would be in the midst of budget preparations for the fiscal year of 2012-13, beginning June 1.
"This is not my decision, this is the people's decision," Liedka said. "My job is to put the facts out there."
The village residents would have a net savings of $531.39 should the police department dissolve, without a shared services contract with the town of DeWitt. Town residents would also have a savings — they could see a savings of $9 per $1,000 assessed home value.
Cutting costs now, Liedka said, is imperative due to the state of the village.
"We're built out," he said. "We don't have the luxury to add development to increase the tax base."
(Continued on Next Page)
Prev Next
Vote on this Story by clicking on the Icon