continued — For the second perspective her talk, Shimer discussed the demographics of women in STEM, showing numerous charts and graphs on the topic from the U.S. Department of Commerce.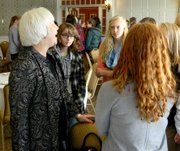 Basically, women are underrepresented in STEM jobs, Shimer said. Statistics show that while college-educated women are increasing their presence in the U.S. workforce, the number of women in STEM jobs has remained the same — 24 percent — during the past decade.
The number of women entering the computer science and math fields has actually decreased three percent since 2000, while women in engineering has increased 1 percent. "These are kind of discouraging statistics, from my viewpoint," Shimer said.
Generaly, however, statistics show that women in STEM jobs are satisfied and tend to stay in those jobs; STEM-related graduate degrees open numerous doors to advanced careers; STEM jobs grow three times as fast as non-STEM jobs in the U.S.; and the pay for STEM careers is significantly higher (30 percent) than most non-STEM careers. "If you really want a practical reason to do it, that would be a reason," Shimer said. "Bottom line: you can earn a lot of money."
Statistics show also that while the gender pay gap still exists in STEM fields, it is smaller than in non-STEM fields: 7 percent in engineering, 8 percent in physical and life sciences, and 12 percent in computer sciences and math.
It was the gender gap issue that resonated with the talk attendees — specifically with the students.
"It was very interesting," said eighth grader Benny Herbst. "I didn't know there was such a big difference in the gender gap. It actually makes me want to get into a STEM career even more."
"The gender gap almost makes me angry," said Emily Norris, also in eighth grade. "I thought that was a thing of the past."
Vote on this Story by clicking on the Icon