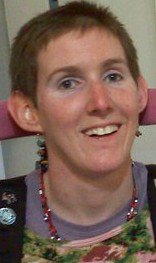 Camillus — Maxwell Memorial Library's featured artist for November will be 22-year-old Libby Reynolds. At the age of 14, Reynolds began taking art lessons with local teacher Linda Bigness, who exhibited abstract paintings at Maxwell in September.
Working in acrylics, Reynolds paints scenes and objects in a bright and sunny palette. Her work will be on display at Maxwell Library Nov. 2 through 29, with an artist's reception at 7:30 p.m. Tuesday, Nov. 8. The reception is free and open to the public.
Reynolds's unique painting style includes taping a paintbrush to a hand splint; as a result, a painting can take days of work, she says. But that's OK, because she's happy when she paints.
"My paintings are my words – my feelings," she said. "My artwork is a special time for me."
The young artist has exhibited across Central New York, and her works have garnered recognition and awards. In 2005 and 2006, Reynold's paintings received ribbons at the New York State Fair, and the National League of American Pen Women gave her works honorable mentions in 2006 and 2007.
Maxwell Memorial Library is located at 14 Genesee St., in the village of Camillus. For more information, call 672-3661 or go maxwellmemoriallibrary.org. Become a fan of the library on Facebook to be alerted to upcoming events.
Vote on this Story by clicking on the Icon