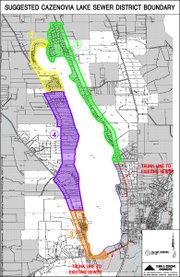 continued — Vacuum sewer systems keep raw wastewater out of the environment. They work by using traditional plumbing systems to deposit wastewater into a sealed tank located onsite at a residence. From this tank, a pneumatic valve propels sewage into a sealed vacuum main and then to a vacuum station. After arriving at the vacuum station, wastewater is pumped to a treatment plant for processing.
At the town and village meeting a representative from AIRVAC, the world's largest vacuum sewer system manufacturer, offered a proposal to fix the sanitation issues on Cazenovia Lake.
AIRVAC's proposal included two vacuum stations, one on the east side of the lake and another on the lake's west side. Each vacuum station could operate independently of the other, meaning that this system could be introduced to the lake in phases.
AIRVAC's estimate for the installation of this system was $2.9 million for the west side of the lake, and $1.7 million for the east side.
John Dunkle, Cazenovia's town engineer added $2.9 million on top of AIRVAC's $4.6 million estimate for the project. This brought the total estimated cost of the project to $7.5 million.
"This [estimate is] very preliminary, just to get an idea of what such a thing might cost, because the goal of this, at this point, is to put together some very preliminary numbers and present them to the potential users, " said Dunkle.

"We were being very cautious, and overestimating the cost because we thought it was better than underestimating and surprising people," Town of Cazenovia Supervisor Ralph Monforte, who is also a member of the Cazenovia Lake Watershed Council, said.

Currently, the plan is to solely charge residents who can hook into the vacuum sewer for the system's installation and maintenance. These residents will have the opportunity to vote for or against the installation of this system.
Vote on this Story by clicking on the Icon