SYRACUSE — The Skaneateles school district today lost in court for the second time in three days, which ended its varsity football team's hopes for a spot in the Section III championship game this Saturday.
Appellate Division Justice John Centra this afternoon refused to issue a temporary restraining order over the Lakers' suspension handed down last week by Section III and upheld Tuesday by State Supreme Court Justice Brian F. DeJoseph.
Skaneateles School Superintendent Phil D'Angelo told reporters outside the courtroom that the district had petitioned the order in hopes it would allow the team to play Saturday.
This officially ends the Lakers 9-0 season. The court decision now moves Utica Notre Dame, the team Skaneateles beat last week in the semi-finals, into Saturday's sectional finals game against Herkimer.
Prior to the Skaneateles CSD attorneys appearing before Judge Centra, attorney Dan French, who said he represents former Lakers head coach Tim Green and the players and their parents, separately petitioned Centra to overturn DeJoseph's Tuesday decision.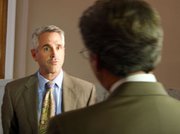 "We are certainly sympathetic to everyone dragged into this controversy," French said outside Centra's chamber. "Today we are focused on 40 kids who are indisputably eligible to play on Saturday."
Green resigned his position as coach earlier this week in hopes his departure might sway Section III to lifting the suspension.
Vote on this Story by clicking on the Icon