Manlius — Public comment at Manlius Town Board is still temporarily removed from the agenda until new rules of decorum can be adopted next month.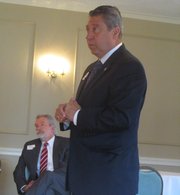 The Manlius Town Board voted unanimously in September to suspend public comment from the meeting agenda for 30 days. During that time, supervisor Ed Theobald said he would review the purpose of a public comment period and report on ways to improve it at the Oct. 26 meeting.
That report has now been moved, potentially, to Dec. 14 and public comment is still suspended from the agenda.
"To me, it was getting out of control and away from the direction public comment was to be used for," Theobald said.
Negative or derogatory comments about town personnel or board members and "disturbing" public concerns were being voiced at the meetings, Theobald said. Often, speakers would go over the allotted five minutes, a stipulation put in place by the rules of decorum.
Theobald has sent his suggestions for changes to the rules of decorum to the board, and the board is expected to adopt those changes at the Dec. 14 meeting.
"I have recommended to the board to not have the public comment period on the agenda," Theobald said.
New York state open meetings law does not require a public comment period at board meetings. The period was added by a former supervisor in the late 1990s and the rules of decorum were designed in 2007. They were last revised in January 2008, two years prior to Theobald starting as town supervisor.
"I'm adamantly opposed to it," said Manlius resident Lou Van Wie. "It doesn't give any of the tax paying residents a basis to voice their displeasures for what's going on in the town. It takes away your ability to communicate with the town. I don't think it's good government."
(Continued on Next Page)
Prev Next
Vote on this Story by clicking on the Icon