Manlius — The bitter cold air didn't keep families away from the first annual Ghosts and Goblins Halloween party on Saturday at the Swan Pond in the village of Manlius.
Photo Gallery
GALLERY: Manlius hosts 'Ghosts and Goblins Halloween'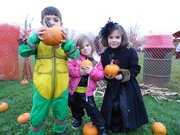 Photos from the village of Manlius Parks and Recreation Department's Ghosts and Goblins Halloween. The first-annual event took place Saturday, Oct. 29, at the Manlius Village Centre Pond.
About 300 people came to the event on Saturday hosted by the village of Manlius Parks and Recreation Department to celebrate the holiday. Kids between mostly the ages of 2 and 10 years old dressed up in Halloween costumes to play unique games such as Pumpkin Bowling and Candy Corn drop for small prizes. The event ended with a costume parade for the kids and a costume contest broken up into four categories for the best costumes.
Many Fayetteville-Manlius area businesses supported the event by providing a table to promote themselves and the event itself, offering candy and coupons.
Tops, the Manlius Library, Uno's, and other businesses provided candy for the event Dunkin' Donuts provided donuts and food. The Wild Orchid provided mums. Other places such as Compassionate Care Vet, Feats of Clay, Town of Manlius police Explorers, Four Seasons, Creative Landscapes and Lavallee's Karate offered fun activities for the event.
A major contributor to the Halloween party was Eastern Hills Bible Church, which was responsible for building many of the props and sets. Art director Mark Noble said many props and sets were made from material the church already had. Many church volunteers helped with building the sets.
Parks and Recreation Director Kristen Hansen, who coordinated the event, was very pleased with the outcome of the first Ghost and Goblins Halloween Party.
"Considering it being the first year and very cold, it was [well] received and very successful," she said.
Considering the event's success, Hansen said she can't wait to plan similar activities for holidays to come.
Vote on this Story by clicking on the Icon