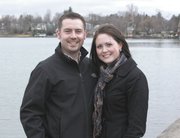 Skaneateles — Mike Avery and Fiona Runwick may remember Christmas 2011 as the best holiday of their lives: on Dec. 23 they won a $10,000 engagement ring from Skaneateles Jewelry and then made their engagement official at the end of the Skaneateles Pier.
The ring was the grand prize in the 93Q "Bridal Idol" contest, in which five couples competed for votes over a two–week period similar to the "American Idol" television show.
"We were ecstatic about winning. It was a great end to two weeks of pure emotion," Avery said.
"We really felt thankful for our friends and family who got us so many votes," Runwick said. "We also feel equal part stress now that the wedding planning is underway!" she added jokingly.
The Bridal Idol contest, which ran Dec. 5 through 23, was done under the aegis the Ted and Amy in the Morning show on 93Q radio.
To enter the contest, a couple or individual needed to submit a photograph of themselves and their significant other and a short letter stating what made their relationship unique and why they deserved to be the Bridal Idol champions.
Avery and Runwick discussed entering the contest, although it was Avery who wrote and submitted the letter about their relationship — without Runwick reading it.
Avery, 26, and Runwick, 25, who both currently live in Liverpool, have been together for five years. They met their junior year at the University at Buffalo through mutual friends. Their first non-Buffalo date was in Skaneateles.
"I entered the contest for lots of reasons," Avery said. "The first is that I knew I wanted to marry Fiona for a while now, and this contest gave me the means to ask that question sooner rather than later. I also wanted everyone to know, including Fiona, just how much she means to me."
(Continued on Next Page)
Prev Next
Vote on this Story by clicking on the Icon