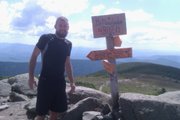 He started the trip alone in Georgia, but said he quickly befriended a community of like-minded hikers. At one point he was camping with about 20 other people.
It was one month into the trek when Sherman found his future hiking companion, a woman named Lily Owens, who he now resides with in North Carolina.
"She set out the same way, hiking the trail by herself. After about a month of hiking we ran into each other and travelled together," Sherman said. "We got to know each other better and decided to finish the hike with each other. We took our 'victory' photos together at the Mount Katahdin summit and now we're living together."
Sherman grew up in Cazenovia and graduated the Cazenovia High School with the Class of 1999 before heading to Morrisville State College to study computer science. Following his passion for snowboarding, he became a professional instructor and worked at numerous ski resorts along the eastern seaboard before deciding to hike the Appalachian Trail.
He currently lives with Lily, working as a snowboard instructor at Cataloochee Mountain, the only winter sports center open in N.C. this season.
Sherman said he hopes to go onto complete what is known as the "Triple Crown" of long-distance hiking trails in the future, the Pacific Crest Trail out west, and the Continental Divide Trail in the Midwest – this time with Lily by his side.
The Appalachian Trail was first conceived in 1921 by Benton MacKaye, a forester who designed the 2,181-mile trail in hopes of connecting farms and wilderness work-study camps.
The first "thru-hike," when a traveler hikes the entirety of the trail in one season, was completed by Earl Shaffer, of York, Penn., in 1948.
Since then, the Appalachian Trail has seen more than 11,000 thru-hikers, including Sherman.
The fastest thru-hike on record was completed by Jennifer Pharr Davis in 2011 – she traveled from Maine to Georgia in 46 days, 11 hours and 20 minutes.
For more information on the Appalachian Trail, its accommodations, various routes and interactive maps, visit the Appalachian Trail Conservancy online at appalachiantrail.org or whiteblaze.net.
Pierce Smith is editor of the Cazenovia Republican. He can be reached at 434-8889 ext. 338 or editor@cazenoviarepublican.com.
Vote on this Story by clicking on the Icon