continued — On Dec. 27, three lanes on the tubing hill were open, but only nine people were using them. The snow was hard and slick, yet melting quickly, causing the grass surrounding the hill to turn into a swampy mess.
Among the sparse crowd was East Syracuse resident Victor Barrientos and his 3-year-old daughter Elaina, who were riding together. Javier Barrientos, a 15-year-old East Syracuse-Minoa High School student, and Jonathan Adamson, a 36-year-old from Florida who was in the area visiting relatives, had differing views on the conditions.
Javier spoke like a true Central New Yorker.
"I kind of expected it to snow more by now, but it's no big deal," he said. "I'm used to whatever comes because you never know what will happen."
Adamson, though, hoped for a bit more in his stay in snow country.
"This isn't what I remember," said Adamson, who hadn't been to the area since 2003. "There's no snow. We don't get snow in Florida, and I was hoping to enjoy some while I'm here. But we're making the most of it. When no one is [tubing], we get more access."
With the country fighting its way out of economic hardship, almost every luxury takes a financial hit. Goodfellow said his business isn't exempt, especially in poor weather conditions. Because of this, he said he's hired just 20 of the estimated 60 workers he needs for everything to run smoothly during peak season.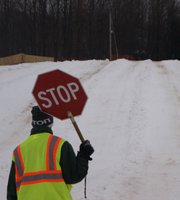 Kyle Button is one of those workers. The 20-year-old has been employed at Four Seasons for six winters as a ski and snowboard instructor. Button said the annual ski and snowboard camp, which took place last week, has nowhere near as many people as usual.
"With no snow, you can't really do much," he said. "But it'll come."
At Toggenburg Mountain Ski Center, representative Jessie Novak said the weather made it so the business couldn't open until Dec. 23 — a far cry from last year when Toggenburg unlocked its doors three weeks earlier.
Vote on this Story by clicking on the Icon