"One of the only benefits that I see to having endured being the home of one of the most polluted lakes in the country is that as a result, the county owns 90 percent of the shoreline, which I think presents a tremendous opportunity for this community and I want to be careful going forward that we have a vision for where we want to be and we have careful planning," Mahoney continued. "I'm here for this one moment in time. Many people who came before me have worked on cleaning the lake, and I'm sure people will come after me, and I don't think that this decision about what we want the shoreline to be should be left to the individual that just happens to hold this office at this time. I want it to be a much broader conversation and a lot more input from the community at large."
The county legislature passed the budget with a contingency, which means they will have to go back and revisit the topic before the funds will be released.
"I'm hopeful that the legislature will see what I do, and this is bigger than county government, this should be something that the community participates in at large," Mahoney said.
As we discussed last week, the DEC has also committed to community visioning around the Camillus wastebeds, where Honeywell will be storing covered sediment from the lake bottom. Honeywell has also involved the community for input on the future of the shoreline that they own.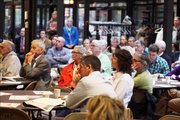 Passive recreation, with a focus on environmental conservation, seems to be a popular idea. Many people are vocal about their desire for an extension of Syracuse's Creekwalk, a popular trail that connects Armory Square to Onondaga Lake. The 'lake-loop' could extend around the entire Onondaga Lake shoreline, but there are no firm plans. The future of the lake and its shoreline will be determined by public input.
"I think other communities around the country wouldn't believe their good fortune if they had a lake as beautiful as Onondaga Lake," Mahoney said. "With all of the shoreline, for the most part, in a natural state it's a clean canvas for our community to decide what we want to do."
Vote on this Story by clicking on the Icon