continued — The idea of individual living newsletters is quickly sweeping through the hallways of Burton Street, and teachers have begun to incorporate the technology in their classrooms.
On Tuesday, Dec. 20, kindergarten teacher Lisa Smith used an iPad to video-record her students completing an activity on mathematical patterns; she asked them to explain their findings and then emailed the students' parents her video clip from the day.
"A lot of wonderful moments occur in a room of 20 kindergarteners over the span of a day. This technology enables me to email parents those magical learning moments in almost real-time," Smith said. "I've gotten a lot of positive response from parents. They love getting a glimpse into their child's day, seeing them interact with their peers and work well independently."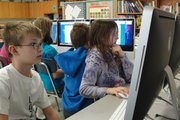 In the fourth-grade wing, students have been busy honing their reading comprehension and independent problem-solving skills using Raz-Kids, a web-based program with short selections of text, illustrations and inferential questions.
The students read pieces on current and historic events and answer related questions; the more problems they answer correctly, the more stars the program awards them.
Once the students have accumulated enough credits, they can "spend" the stars to build their own virtual rocket ship, a characteristic fourth grade teacher Joshua Smith thinks is highly motivating for his students.
"The stories are non-fiction and fictional and they're really fun, interesting topics. The illustrations are really motivating, which is what we're trying to do here, become motivated to be better readers," Smith said. "These students are fully aware that [Raz-Kids] is not only good for them, it's good for me, because it allows me to easily see what areas some of them may be struggling with. So it's great that they use this program authentically and put their best foot forward, because what it tells me is information that I can help them with, individually. It enables me to better attend to their needs."
Vote on this Story by clicking on the Icon