continued — "We've had students go on to win Emmys, which is incredible. And Michael has only made it better since taking over for me. It's a real point of pride for the school and the district."
The show was originally a club, but became part of the curriculum in 2000. Taped before school, which begins at 9 a.m., crew members of the morning show are sometimes in the studio by 7:45.
"No one ever cared that we had to show up early, because we knew every day was going to be something new and always fun," said Andrew Troast, who was the daily weatherman for most of his time at ESM. He also anchored the Tuesday shows, estimating that he was involved in 400 by graduation in 2010. "It was also great to see what you produced each day during school. It was very rewarding."
Now in his second year of broadcast journalism at Syracuse University's Newhouse School, Troast came back Thursday to thank Ferris, and help deliver the weather.
Nothing fazed Troast when he arrived at Newhouse, one of the top communication schools in the nation, due to his time with ESM-TV.
"I'm not just saying this because I think Mr. Ferris is a great guy, but I was supremely prepared during my time at ESM," Troast said. "I can't give the school enough credit for where I am now."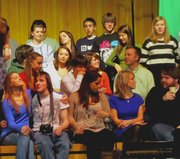 The stewardship of the program is something the district administration takes seriously. As schools adapt to students' varied learning styles and rapidly changing technology, equipment is renewed as the budget allows. The studio has a bay of up-to-date Macs, which allow for quick editing.
"Over the last four years, we've realigned our strategic plan, and this class and what's involved with it are things very much supported by our plan," said Superintendent Donna DeSiato. "Communications, and certainly communications in step with technology, is a critical part of our world today. The students in our television class get a great foundation in the subject to use in the future."
Vote on this Story by clicking on the Icon