East Syracuse — A sign hanging among decades worth of wedding cake photos reads out the mantra of Fremont Bakery: "This is my work, my blessing, not my despair."
"Our important job in this business was to satisfy as many people as we could," said owner Tony Fallico, 78, of Manlius. The East Syracuse staple is closing shop Dec. 31 after nearly 51 years in business in central New York. Without any family members to take over the bakery's daily operation, he has decided to retire and close the bakery.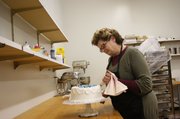 "Today, mom and pop bakeries are out," he said. "You have to go big."
Customers have been trickling in for the last two weeks of business, declaring the pastries as the best in Syracuse. Others were in a self-proclaimed "donut depression," sad to see the institution closing.
Fallico, who has been working in bakeries since he was 9, worked in Eastwood and helped with his brother's bakery, Liberty Bakery, on Burnet Avenue. Fallico opened the Fremont Bakery in 1961. Originally in the Fremont area, the shop kept its name after moving to East Second Street in 1971 after a fire at their Route 290 and Butternut Drive location.
The bakery offers a variety of donuts, fresh breads and other pastries and cookies. The real selling point, however, are the cakes.
Fallico guesses he's made more than 20,000 wedding cakes in the years since Fremont Bakery opened — but not all have been of the same variety.
He made national news with his daughter's wedding cake in 1986. The cake was made of arches between two tables, allowing his daughter, Lauriette, and her husband, Michael Aiello, to stand beneath the cake. It served more than 4,000 — the leftover cake was donated to senior citizens.
"You have to remember, the wedding cake was a big part of the wedding back then," he said.
(Continued on Next Page)
Prev Next
Vote on this Story by clicking on the Icon