Baldwinsville — The November meeting of the Betsy Baldwin Chapter DAR was held at the New Legacy Community Room in Baldwinsville. Following the meeting, John Henderson, of Baldwinsville, talked about growing up on a farm in the area.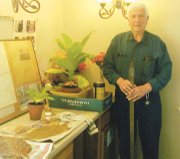 Henderson spoke about good times and bad on a farm. Among the good times were gatherings, held at the home of one farm or another, where crops would be gathered and at the end of the day, a long table was set for dinner. Throughout the day, the women would gather in the kitchen to cook. Often, meals became something of a competition among the women. Depending on how long it took for the work to be completed, the farmers would gather again the next day at the same farm, or move on to another farm.
Henderson also recalled that as his father was a justice of the peace, there were times when they would be called out of the fields to be witnesses at an impromptu wedding.
Some of the bad times included, injuries which occurred during the course of farming, usually involving farm equipment. Injuries were treated at home and work resumed.
Vote on this Story by clicking on the Icon