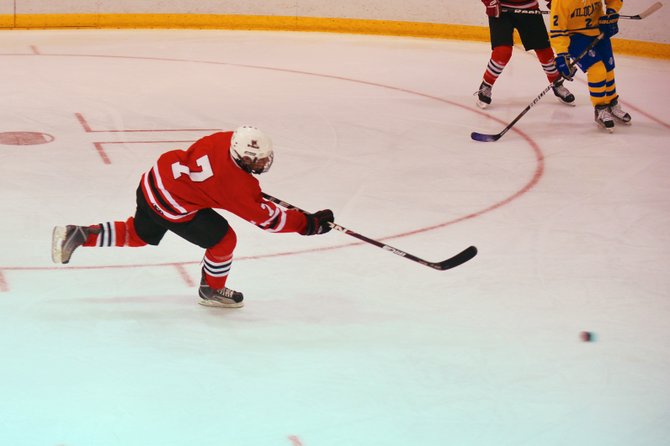 Camillus — A period remained in Wednesday night's game, and the Baldwinsville ice hockey team found itself on even terms with four-time defending Section III Division I champion West Genesee – and this was on the Wildcats' home ice at Shove Park.
This proved that the Bees had traveled a long way from the 7-0 beating it took at WG's expense in last February's sectional playoffs.
What followed, though, proved that some distance remained, as the Wildcats' attack struck for two quick scoring bursts, transforming a close affair into a 6-2 B'ville defeat.
That it hadn't done so earlier was a large tribute to the Bees' defensive resilience. During a lopsided first period, WG unleashed 16 shots to B'ville's two, yet only got power-play rebound goals from R.J. Tinklepaugh.
And when Shane O'Brien converted late in the period off a feed from Matt Abbott, the Bees were down, 2-1. It was only the second time all season that WG had allowed a goal to anyone.
They played on more even terms in the second period, B'ville picking up confidence. That culminated when, at the end of a power play, O'Brien broke loose on the left side, feeding it to the middle, where a wide-open Justin Newman poked a shot past Jake Pelton, tying it 2-2.
So it remained as the third period started, and here the Wildcats took over. With 11:08 left, Matt Skrupa scored to put WG back in front, 3-2, and a B'ville penalty followed within seconds. Matt Schattner capitalized with a power-play goal, just 37 seconds after Skrupa converted.
Then Shawn Lynch hit back-to-back goals 41 seconds apart late in regulation, negating what had been a strong effort from Johns, who in his turn in the net finished with 29 saves.
B'ville would make another imposing road trip Friday, to Kennedy Arena to face Division I East leader Rome Free Academy. And this time the outcome was never in serious question as the Bees fell to the Black Knights 5-1.
RFA, like West Gensee, blew out to a 2-0 first-period lead, but unlike the Wildcats expanded on it in the second period, even though Newman scored his side's only goal, fed by Dan Strodel and Parker Ferrigan.
It never got closer, as Garrett Reilley, with a goal and two assists, led a Black Knights attack where five different players (also Ryan Reilley, Nick Mecca, Mike Seifert and Mike Pekarski) had the five goals.
B'ville will take on Mamaroneck, from Section I, on Wednesday at The Rink in Ithaca before league play resumes Jan. 3 against Hamilton.
Vote on this Story by clicking on the Icon