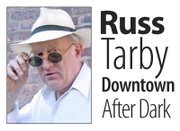 It was only a matter of months after Dick Long began working as a reporter for the Herald-Journal that he began to suspect the cops were on the take.
It was 1951, and the men in blue were colluding with gamblers — sports bookies and operators of high-stakes card games and craps — lucrative rackets primarily based on Syracuse's North Side. The bookies did business at places like the 721 Club, Genesee Billiards and the Allied Crafts Club.
"Gambling was illegal, but there were about 30 cigar stores where horse bets could be placed," Long told me a couple years ago. The determined old Irishman died Dec. 5 at age 85. "There were five illegal gambling spots on North Salina … Syracuse in the 1950s was considered a wide open gambling town."
'Too controversial'
Long's newsroom mentors, Post-Standard reporters Bill O'Driscoll and Dick Page, told him the gamblers enjoyed police protection. "They were both frustrated because the Post-Standard wouldn't print their stuff," Long said. "It was 'too controversial.'" Long ran into the same roadblock with his editors at the afternoon Herald.
Then the nationally known "Casey" Jones, former executive editor of the Washington Post, was hired as head man at the Herald.
"He wanted to know what was going on in Syracuse," Long remembered. "So Casey assigned five of us reporters to scour the city in disguise, not letting anyone know who we are. We were to place bets, hang out with prostitutes, talk to anyone who could fill us in on what's going on."
For three days straight the reporters took a walk on the wild side before filing a confidential report with Jones.
"Here's what we found out," Long recalled. "We knew about the gambling — 30 cigar stores and five big North Side games going all the time. But we also found out about prostitution in Syracuse operating through taxi cabs. The girls were taken to their 'johns' through a secret radio code system."
(Continued on Next Page)
Prev Next
Vote on this Story by clicking on the Icon