SYRACUSE — Samadee became a school teacher quite by accident. With the opportunity that attracted him to town eliminated the day before he arrived from New York City, he took the advice of a friend and walked unannounced into the office at Madison, a junior high school on the periphery of the SU campus serving the then geographically contiguous local community of color. Word on the street, the friend told him, was that the school was having a hard time keeping its teachers, and indeed an obviously harried teacher was taking an abrupt leave from the building as he entered the office to enquire about employment.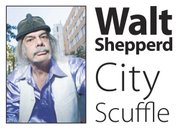 The school was the focus of a Ford Foundation project intended to prepare its students for racial integration of the city schools anticipated three years hence. The project coordinator, a turtle-necked jazz musician who wore sunglasses and lounged for the interview with his feet on his desk, sensed a Big Apple bond with Samadee, and suggested he hang for the day in the classroom abandoned by the harried departee.
"See how it slides," he drawled in hipsterese.
Where do you want it?
Samadee survived that first day at Madison, moving with a streetwalk rhythm from across 110th Street, dropping frequent r n' b cultural references and sharing slightly exaggerated stories from a checkered D-I basketball career. He learned instantly that continued survival in that classroom would depend on performance combining both prepared and spontaneous one-liners competitive with current late night television talk show hosts, never sitting down and never turning his back on the audience.
That first day a preacher's daughter propositioned Samadee, and Ray, who could easily have passed for an SU linebacker, asked if he wanted his butt kicked there in the classroom, out in the hall or after school in the street. The second day's curious calm gave Samadee indication that he had passed the first in a series of tests toward establishing trust with the students.
(Continued on Next Page)
Prev Next
Vote on this Story by clicking on the Icon