By the time it neared the holiday break, the Cazenovia ice hockey was enjoying the familiar – and happy – sensation of a win streak.
A key in that process was Tuesday's game against Auburn at the Morrisville State IcePlex, which was in doubt before a clutch play in the third period turned it in the Lakers' favor and led to a 3-1 win over the Maroons.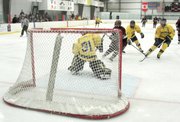 The fact that it was so close was mostly a tribute to the work of Auburn goaltender Jeff Gardner. Despite an all-out Laker assault from the opening face-off, Gardner kept his side clean into the second period and would, by night's end, record 52 saves.
Through two periods, it was still a 1-1 game, the Maroons' Logan Jones having slipped a shot past Joey Vecchiarelli, and deep into the final period it was still a tie game as a Cazenovia penalty led to an Auburn power play.
Then, breaking up a pass, Cazenovia's Jeff Stowell broke the other way, closed in on Gardner and flipped a shot past him for a short-handed, go-ahead goal.
The Lakers would tack on an empty-netter in the final minute as Brian Gara and Connor Race earned the other goals, with Alan Baldwin joining Gara in the assist column.
Two nights later, no late drama was required as the Lakers went to Fulton and put together a 5-2 victory over the Red Raiders.
Up 1-0 through one period, Cazenovia negated Fulton's mid-game surge by scoring three times in the pivotal second period and tacking on another goal in the third period.
Connor Cannizzaro, with two goals, led a well-balanced attack where Race, David Marshall and Kyle Murray also found the net. Stowell managed a pair of assists as A.J. Davis and Joe Colligan earned single assists. Vecchiarelli stopped 25 of the 27 shots he faced.
So Cazenovia carries a 5-2 record into the Cortland-Homer Tournament, which starts next Thursday at 5:30 when the Lakers meet Frontier (Section VI). The consolation and championship games are Dec. 30, with Division II play resuming Jan. 3 against Whitesboro at the IcePlex.
Vote on this Story by clicking on the Icon