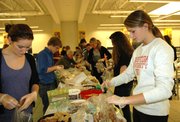 Skaneateles — Classes and clubs within the high school and middle school joined forces with the community to produce close to 300 dozen cookies for families in the Skaneateles Food Basket program this year.

"It was a huge success," said Sharon Adams, president of the Interact Club, which spearheads the cookie drive from inside the school district.
Adams thanked all of the school organizations and clubs that helped this year. In addition, she thanked all of the individuals in the community who responded to request for baking help.
"It was more than double our goal," said Adams, explaining that the club hoped to gather at least a dozen cookies for each of the 140 families who will be receiving baskets this year. Instead, each family will receive at least two dozen cookies.
Adams said more than 50 dozen of the cookies came from people who attend St. Mary's church. Interact Club member Aryn Krebs and her mother, Charmaine Krebs, led the community portion of the cookie drive, getting the word out to people and then collecting cookies from St. Mary's and delivering them to the high school.
About 20 students gathered in the cafeteria Thursday, December 15, where cookies that had been delivered throughout the day were lined up, assembly-line style, filling four long tables.
"There were chocolate chip cookies, sugar cookies, snicker doodles, molasses cookies, ginger bread cookies, holiday cut out cookies, shortbread cookies and almost any other kind you can imagine," said Adams.
Students carefully selected a variety of cookies and filled more than 290 bags with between one and two dozen cookies each.
Aryn and Charmaine Krebs then delivered a van full of bins and boxes of cookies to the Outreach/Helping Hands office. The cookies were to be included with the Christmas baskets.
Student bakers included Interact Club members, SADD Club members, SGO members, middle school students, and home and career students.

Vote on this Story by clicking on the Icon