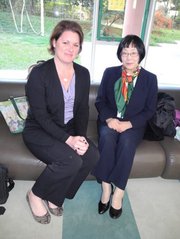 New York Agri-Women member Erica Leubner inspired Japanese women involved in agriculture during her recent presentation to The Rural Women Empowerment and Life Improvement ("WELI") Association in Tokyo, Japan.
Leubner, the co-owner of Tim's Pumpkin Patch in Marietta, New York, was selected to represent New York Agri-Women because of her success as a female entrepreneur and experience with agri-tainment. The title of her presentation was: Developing a Successful Agri-Business Using Your Strengths and Simplicity. Leubner shared with the group her decisions and successes at achieving a higher education, marrying a dairy farmer, and raising three daughters all while growing Tim's Pumpkins Patch, a full service agri-tourism operation attracting thousands of visitors annually. The heart of Leubner's presentation focused on growing a business slowly, giving consumers what they ask for, keeping the farm authentic, and most importantly, how she created a niche for herself within the family business in which she married.
Leubner's presentation took her beyond her own farm, as she found herself playing the role of an ambassador for U.S. agriculture. The inquisitive audience questioned the international focus of U.S. agricultural labor, farm subsidies, the U.S. debt, corporate agriculture, and President's Obama's plans for further expansion of the Trans-Pacific Partnership ("TPP") for agricultural products. Setting emotion aside, Leubner proudly defended the misconceptions of America. Leubner proudly told the audience that she "like many other farm women around the world rise at 5:00am every morning to do my share to feed the world, and support the family unit." Leubner continued, "the conference attendees soon realized that although, we lived on different continents, our roles and responsibilities as farm women were similar."
Leubner will be making a presentation about her trip to Tokyo at the second annual New York Agri-Women meeting to be held in Riverhead, New York on March 3, 2012.
New York Agri-Women will have two panelists next spring at the United Nations Commission on Women in New York, New York discussing food security. New York Agri-Women is a state affiliate of American Agri-Women. It was organized in 2010 by Cari Rincker, a food and agriculture attorney in New York City.
For more information about New York Agri-Women, please visit newyorkagriwomen.com.
Vote on this Story by clicking on the Icon