Local teen band Give Us Jersey is flying high as the year 2012 approaches — they have a new album coming out, a multi-state tour coming up and their latest song has nearly 70,000 downloads on YouTube.
And none of these guys is even 21 years-old yet.
"This upcoming EP is going to put us out there and prove that we can compete with the big acts even though we come from a small village," said rhythm guitarist Ben Cooper, a Skaneateles native.
Give Us Jersey is a five-piece Pop Punk/Easycore band made up of lead singer James Boucher, 18, lead guitarist Jarron Vanceylon, 18, rhythm guitarist Ben Cooper, 16, bassist David Gabriel, 20, and drummer Tanner Scarr, 18.
The band was originally formed in 2008 as Boucher's solo project, and Vanceylon was added soon after that. Gabriel became the permanent bassist in April 2010, Scarr joined in September 2010 and Cooper joined the band in the past few months.
Scarr and Cooper are from Skaneateles, the other members are from North Syracuse.
Give Us Jersey's preliminary EP, Oceans Apart, was made just to get their name out, and they have subsequently released a few singles. One of the singles is a cover of the radio hit, "Like a G6," which has been downloaded nearly 70,000 times on YouTube and "really got our name in people's heads," Scarr said.
This year the band traveled to Nashville, Tenn., to record their new EP, Just a Memory. Post production and cover art are still in production, but the release date is scheduled for Jan. 1, 2012.
Give Us Jersey plays shows in the Central New York area, such as in Auburn, Camillus, Syracuse, Bing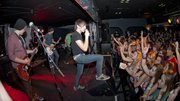 hamton and Frankfort. The recently placed second out of 16 bands in a battle of the bands at Westport Theatre, and did a show on Dec. 11 at Station 58 in Syracuse.
(Continued on Next Page)
Prev Next
Vote on this Story by clicking on the Icon