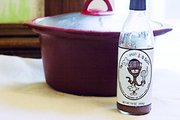 Skaneateles — When he first started, Tom Armstrong bottled his homemade barbecue sauce in wine bottles and sold it out of his car trunk.
Now, 14 years later, Tom's Bootleg BBQ Sauce is sold in stores across Central New York, used in multiple restaurants and recently was named one of the best barbecue sauces for chicken by the National Barbecue News.
And it originated right here in Skaneateles.
"I was working at Rosalie's Cucina in 1997 and I decided it's time to make something unique and different. So I started going around the kitchen and grabbing every spice I could," Armstrong said of the inception of his sauce. He ultimately found the ingredients he wanted — which come from across the globe: England, France, Italy, Puerto Rico, Jamaica and of course the American South — mixed those with five different types of alcohol, then boiled the mixture down to evaporate the alcohol content.
"Most barbecue sauces are too sweet or too tangy. When you taste my product it's very unique, it has lots of flavor, a little bite, a little tanginess and a long lasting flavor that stays on your palate for 30 seconds to a minute or longer," he said.
It's a "bootleg" barbecue sauce because for five years Armstrong sold it in wine bottles and out of his trunk. Then Skaneateles restauranteur Johnny Angel was so impressed by the sauce he told Armstrong he had to put the product on the market.
Angel gave Armstrong advice and some tricks of the trade, and then Armstrong connected with Nelson Farms in Tully, which specializes in assisting small entrepreneurs produce and market their products.
The bottles were eventually shrunk to the regular 375 ml condiment size after Armstrong received multiple comments from people saying they could not fit the wine bottle in their refrigerator.
(Continued on Next Page)
Prev Next
Vote on this Story by clicking on the Icon