President Nixon, who had shown little interest in environmental issues before the first Earth Day celebrations in 1970, suddenly began to take note of the political possibilities. In a savvy effort to promote environmentalism, Nixon spearheaded the Clean Air Act of 1970, which represented a monumental shift in environmental law by giving private citizens power to sue to enforce a statute. Nixon was a famous adherer to Federalism, but despite his fierce commitment to directing power and money away from the federal government, the president created two new agencies, the Department of Natural Resources, and the Environmental Protection Agency.
In 1971, Senator Edmund Muskie introduced the Clean Water Act into Congress, which was similar to the Clean Air Act, but protective of water. The act became law in 1972.
The Clean Water Act set water quality standards, limited the amount of pollutants that could enter a body of water, and gave the brand new EPA the power to enforce those standards. The act was amendment in 1977 and 1987, adding additional regulations to the act.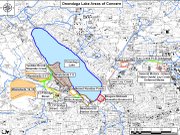 In 1988, the Atlantic States Legal Foundation together with the New York state Attorney General and the New York state DEC filed a complaint against Onondaga County for violations of the Clean Water Act at Onondaga Lake. The Atlantic States Legal Foundation is a legal organization that was founded in Syracuse in 1982 to help citizens "effectively remediate threats to the natural environment," according to their website, aslf.org.
At the time, Onondaga Lake contained over 120 micrograms per liter of phosphorus from the decades of raw sewage that had been steered into the lake by the municipalities. In 1960, a wastewater treatment plant had been built, but sewage runoff continued to add to the lakes pollution.
As a result of the complaint against Onondaga County, a consent judgment required the county to evaluate the need for upgrading the waste-treatment plant, METRO, and include treatment of sewer overflow.
(Continued on Next Page)
Prev Next
Vote on this Story by clicking on the Icon