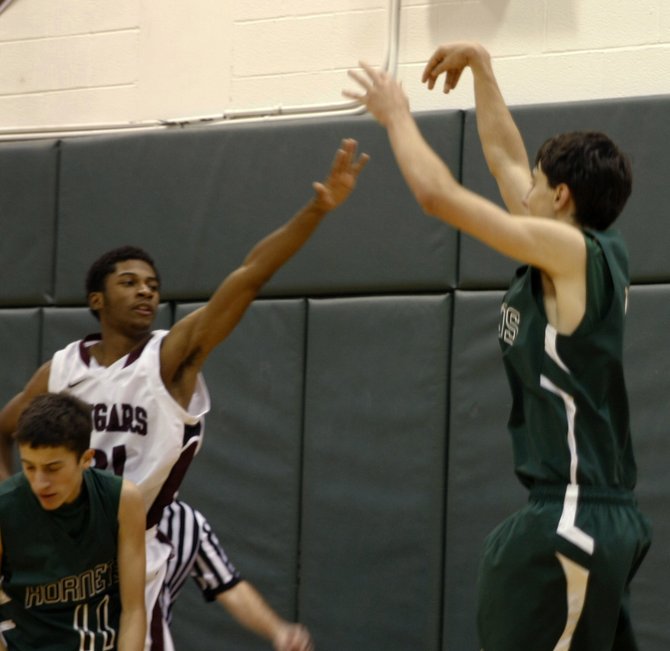 SYRACUSE — True, it was not a league game, and it's still quite early in the season. But the Fayetteville-Manlius boys basketball team still made a loud statement Saturday afternoon by going to Corcoran and ripping the Cougars 86-45 in a clash of two undefeated sides.
"We could not have played better," said head coach Tom Blackford.
The Hornets won for the third time in four days, improving to 5-0 by pushing the tempo on the offensive end and using an active 1-3-1 defense to frustrate Corcoran all game long.
No doubt, it helped F-M that Corcoran had played the night before at Auburn and had gone to overtime with the Maroons. The Cougars won, 77-74, but came back home late at night and, barely 12 hours later, had to deal with F-M.
They were dealing with a Hornets side that had endured its own scare with Auburn on Thursday night. Though the Hornets prevailed in that game 57-51, star sophomore John Schurman had struggled with a season-low 14 points and just four field goals.
Determined to do better here, Schurman lit up Corcoran from the opening tip. He had 12 points in the first quarter as F-M bolted to a 22-14 lead. Blackford said that the Hornets changed up its offense in order to set screens, which left Schurman with open shots.
"When John gets that, he's impossible to stop," said Blackford.
By halftime, Schurman had 19 points, and F-M had stretched the margin to 43-28. Part of the reason was a defense that was active all over the court, to the tune of 34 deflected passes that kept Corcoran from finding any kind of rhythm.
And if there were any further doubts, F-M erased them by opening the second half on a 13-0 run. Seven of the points came from Schurman, who would finish with a season-best 30 points, and he sat out the entire fourth quarter.
Tomer Nesher saw a half-court buzzer-beater disallowed just before the break, but he still produced 18 points. Louis Avellino came off the bench to earn 11 points, while another reserve, Zach Tucker, finished with nine points.
F-M will take on Liverpool and Massena next week, looking to get to 7-0 before the holiday break.
Vote on this Story by clicking on the Icon