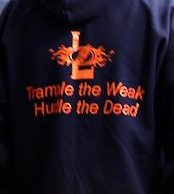 "Just when I thought I was out they pull me back in," said Michael Corleone in The Godfather, Part III. So, just when I thought I was on a good roll, finding only good things to write about in my education column, I came across parents wearing these sweatshirts at a high school indoor track meet.
In case you can't read the text, it's "Trample the Weak, Hurdle the Dead."
I have made an inquiry of the district to determine the source, rationale and philosophy behind them. If and when I get a response, it shall be the substance of a future look at the "other" side of high school level sports — a piece of writing I would prefer to not find necessary.
Vote on this Story by clicking on the Icon