Cazenovia — Even with a new coach and mostly new personnel on the floor, the Cazenovia girls basketball team, as the defending Section III Class B champions, is getting every opponent's best shot.
And that included Skaneateles, who brought its revamped approach to Buckley Gym last Tuesday night and managed to hand the hosts a 42-40 defeat in the latest battle of Laker teams.
Like Cazenovia, Skaneateles is working with a new coach, former Bishop Ludden mentor Jill Blasi, and her teams like to apply full-court pressure, just like Cazenovia wants.
But it was Cazenovia that was more effective in the early going, holding Skaneateles to five points in the first quarter and maintaining a 22-17 edge going into the half.
Everything turned around, though, when Skaneateles started forcing turnovers in the third quarter, leading to a 16-8 spurt. In particular, with Cazenovia focusing so much attention on Skaneateles freshman Elizabeth Lane, her teammates got better looks, as Joanna Dobrovsky recorded 16 points and 10 rebounds and Mary Buck added 10 points.
Try as it could, Cazenovia could not quite catch up in the homestretch, even though Kristie Kleine finished with 11 points and Maggie Carpenter added 10 points. Caroline Franz (seven points) and Kaitlyn Gerber (six points) were close behind.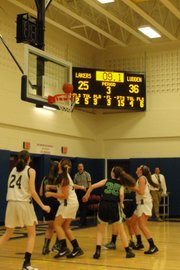 On Thursday night, 2-0 Bishop Ludden came to Buckley Gym, and the Gaelic Knights kept itself undefeated through a three-player effort that overwhelmed the Lakers 54-41.
Defenses ruled for most of the first half. Down by five, the Lakers tied it, 14-14, in the second quarter, and were still within close range before a key 3-pointer by Ludden's Kayla Kilbing at the halftime horn made it 24-18.
Fueled by that basket (and helped by the fact that Kleine and point guard Colleen Dougherty were in foul trouble), the Gaelic Knights went on an 11-0 run and held Cazenovia without a field for the first six minutes of the third quarter. Trailing 36-21, Cazenovia would pull back within nine in the final period, but get no closer.
(Continued on Next Page)
Prev Next
Vote on this Story by clicking on the Icon