continued — "He just saw the need," Shepard said. "He and Eric [Olson] worked in that direction. Eric eventually got out of the business, he was going to shut down the paint and wallpaper section, but Dad ended up buying it from him because, again, it just fit with what he saw that he needed across the board, which was one place to take care of all your home improvement needs."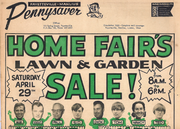 The Fayetteville Home Fair served more than the community's home improvement needs. It also offered opportunity for many of the town's younger generation.
"It was a popular place for high school kids to get jobs," Shepard said. "Dad always hired kids, and of course those days in New York State you could only work three of four days a week when you were still in school."
Shepard himself also worked at the Home Fair, and has fond memories of his days in the store with his father.
"My fondest memory, probably, is the smell of paint... because of course like any paint shop we did custom paint colors and the smell that paint had. When I was finally old enough my dad would allow me to mix paint for colors," Shepard said.
"The smell of fertilizer bags," he continued. "There used to be a giant shed that held all the fertilizer that he sold — cause he sold Scott fertilizer and Ortho products — and the smell of the fertilizer meant springtime. It meant that the snow was gone, ski season was over, and it was time to green up everything around you."
Every day Shepard Sr. had lunch with his friends at Hullers, Shepard said. Sometimes, he would bring his son along.
"For me it was a sign of being grown up, that I could go to lunch with Dad at Hullers," Shepard said.
Vote on this Story by clicking on the Icon