Fayetteville — "It was a time when New York had a small town feel to it," Bob Shepard said about Fayetteville in the 1960s. At the top of the hill and the center of town, the Shepard's Home Fair served the community's home improvement needs.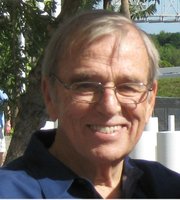 Shepard's father, Robert Sr.,76, passed away Nov. 27 in Florida, where he spent the later years of his life. He is survived by his children, Cindy Shepard Johnson of Sarasota, Robert G. Shepard, Jr., and his wife Bonnie of St. Petersburg, Kelley N. Shepard of Carthage, Amy Shepard Sulivan and her husband Edward of West Springfield, MA, Bradley R. Shepard of Syracuse, James M. Shepard and his partner Mark of St. Petersburg, and Michael A. Shepard of St. Petersburg. He had nine grandchildren and several nieces and nephews.
Born and raised in Syracuse, Shepard's father was a glazier, who taught his son the profession. As an apprentice glazier, Shepard learned to cut, install, and replace glass and tile.
"The original goal was to open up an outlet for Shepard Glass and Tile in Fayetteville," Shepard's son said. "Dad wasn't much for tile. He was more interested in glass work and hardware and home improvement."
Together with Eric Olson, who "was into the paint and wallpaper," according to Shepard, Shepard Sr. formed the Fayetteville Home Fair, which originally focused on bathroom improvement supplies.
"That's where they stumbled onto, 'Maybe we should do more than just bathrooms. We should have it do the whole home,'" Shepard said. "Dad kind of saw that people would need one stop for all of their home improvement needs. If people wanted to go to one place to get the screws they needed to put something up as well as the fertilizer to make their yard greener, or they wanted to get the paint for the new den they were painting, they wanted this one location — kind of like a small town version of Lowe's."
(Continued on Next Page)
Prev Next
Vote on this Story by clicking on the Icon