SYRACUSE — A new law put on the books to help levy stiffer penalties toward people who choke their victim has been used sparingly in Onondaga County.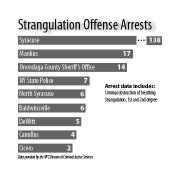 Criminal obstruction of breathing and first and second-degree strangulation were put into effect November 2010 after swiftly passing in the assembly and state senate. Since then, the law has been used 173 times in the county in its inaugural year. Barring the Syracuse Police Department, there have been 59 arrests across 15 police departments. The Manlius Police Department has used the law the most frequently — 15 arrests in the first year. They're followed by the Onondaga County Sheriff's Office, 10, and the New York State Police, with six arrests in the county.
"We use the law when it's appropriate," said Camillus Police Chief Tom Winn. "With any new law, there's been a learning curve. Officers had to learn the technicalities and when it should be applied."
In previous laws, suspects who choke their victims but leave no marks or physical injury would have been charged with second-degree harassment, a violation. Under the new statute, suspects can be charged with any of the three new crimes. Criminal obstruction of breathing is a class A misdemeanor, whereas both degrees of strangulation are felonies. If the perpetrator does not leave a mark, he or she can still be charged with the misdemeanor.
"It protects the victims from these crimes and in all likelihood, a lot of the individuals charged with this would possibly be associated with a domestic violence situation," said East Syracuse Police Chief Donald Morris.
Stiffer penalties aren't going to affect perpetrators, Winn said.
"Typically males are particularly volatile while committing these crimes and they're not going to take a minute to think about the law," he said.
Advocates for the abused were a big motivating factor behind passing the law.
(Continued on Next Page)
Prev Next
Vote on this Story by clicking on the Icon