Jordan — The village of Jordan is not typically known for its shop-ability, but Saturday, Dec. 17, local 'tweens are invited to bring their creativity and their wallets downtown for a unique shopping experience.
Jordan resident Judy Wheeler-Kinch originally approached Eat It or Bead It owner Sara Holden with a loose idea for a 'tween shopping day: Sara agreed to be involved in the event. "OK, how about the 17th?" Wheeler-Kinch recalled replying.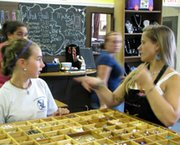 Judy ran with it, and before I knew it there was an ad in the newspaper about the event, Holden said.
At least three Jordan businesses will take part in the event. Eat It or Bead It at 16 South Main St. offers the chance to make your own jewelry, and it's accompanying gift and local art shop next door carries unique gifts. The Clinton Shop at 2 South Main St. is a second hand clothing shop for gently used items. Jordan's Books and Magazines is also on Main Street.
"A couple of dollars will buy something really unique to give," Holden said.
The event will be held at noon Saturday, Dec. 17, in the village of Jordan. 'Tweens 11 and older are invited to join. Shop owners will offer gift advice and free wrapping.
Vote on this Story by clicking on the Icon